What is cloudways hosting?
Cloudways is the best managed cloud hosting platform, unlike other cloud hosting platforms,Here, in cloudways you can choose your cloud hosting provider, there are five different cloud hosting providers available in cloudways.They are,
Digital oceanLinodeVultrAwsGoogle Cloud
Cloudways is a 24 x 7 cloud hosting provider, cloudways performing well over the years.I know some people Don't know what is cloud hosting and shared hosting, from the beginning I told I got covered everything for you,That's true buddy, In the next section, I have covered that too.
Cloud hosting vs shared hosting:
In traditional hosting(shared hosting), multiple websites share the same server(disk space, bandwidth, etc ..), due to this your website loads slow and you will get worse core web vitals also, which leads to bad SEO for your website.Some traditional web hosting companies add hundreds of websites to one server. It is really bad, you don't know how many websites are there on your server.That's why you need to choose the best cloud hosting provider or some other type of dedicated server hosting provider.Choosing a dedicated server means you don't need to share your server with anyone.Unlike shared hosting, In cloudways cloud hosting, you will get dedicated resources for your website.If in shared hosting, one of the websites has a traffic surge or is hacked, whole websites hosted on the server will be affected. so that's a big drawback.You may ask me, then why some people choose shared hosting, it's because shared hosting is low cost compared to cloud hosting. People who are having low traffic or small business websites can go for shared hosting.Because of dedicated resources, cloud hosting is more secure, high in speed, and capable of handling high traffic.If you want to achieve the best website performance, then moving to cloud hosting or some other type of dedicated server hosting is an essential one.
Load your website 3X times faster with this best cloud hosting. Guaranteed speed and security at a low cost. 🚀⚡#cloudways #wordpresshosting
Quick Overview:
Dashboard⭐⭐⭐⭐Cloudways dashboard is pretty good to use and to do some tasks like deploying a server, adding domain, or ssl.Speed⭐⭐⭐⭐⭐Due to a high-quality cloud server, they managed to give amazing speed.Security⭐⭐⭐⭐⭐While cloudways is a dedicated server hosting, in addition to this, they offer ssl, bot protection, IP whitelisting which helps to protect your website from hackers.Pricing⭐⭐⭐⭐Pricing is reasonable, the lowest plan in cloudways is digital ocean 1Gb ram, which costs 10$/mo.Scalability⭐⭐⭐⭐⭐With the help of vertical scaling functionality, you can easily scale your server when you need it.Support⭐⭐⭐⭐⭐Cloudways provide excellent support, you can contact them via live chat, they will resolve your issue ASAP.Features⭐⭐⭐⭐⭐Cloudways proving to the world that they are one of the best web hosting providers by providing advanced features.
Reasons to consider cloudways:
Let's look at some important features to consider cloudways. Speed and security are covered in the next section.
Unlimited Websites:
Unlike other cloud hosting providers, cloudways provides an unlimited number of websites to all plans.In most cloud hosting providers, you need to spend some extra bucks to upgrade to add an extra website.In cloudways, you can add unlimited wordpress applications, woocommerce applications, or magneto applications to your server at no extra cost.It's very useful for freelancers or agencies.
Dedicated Resources:
Every server you launch on cloudways will have dedicated resources(disk space, bandwidth, etc..)As I already said you don't need to share your server with anyone. This ensures the security of the website and it will help you to get good load time and core web vitals in tools like pagespeed insight, Pingdom tools, gtmetrix.
Cloudways Advanced Caching:
Cloudways hosting comes with an inbuilt advanced caching mechanism, it includes Memcached, Redis, varnish, Nginx. these are super powerful and won't come in most of the shared hosting. It just caches the data to reduce external data source reads. It helps to enhance the speed of dynamic websites, wordpress websites, or woocommerce websites.
Migration Made Easy:
Migrating your website from your prior host to cloudways hosting is the easiest process.You can simply request them to move your website, they will do it for you, with help of an expert migration team. most importantly without breaking your website.Migrating your first website is free, but, if you want to migrate another website, It is available through application migration to add on, you need to pay for that.Or, you can migrate your website on your own with the help of the cloudways wp migrator plugin, it's completely free, you can download it in application management → migration tool
ss.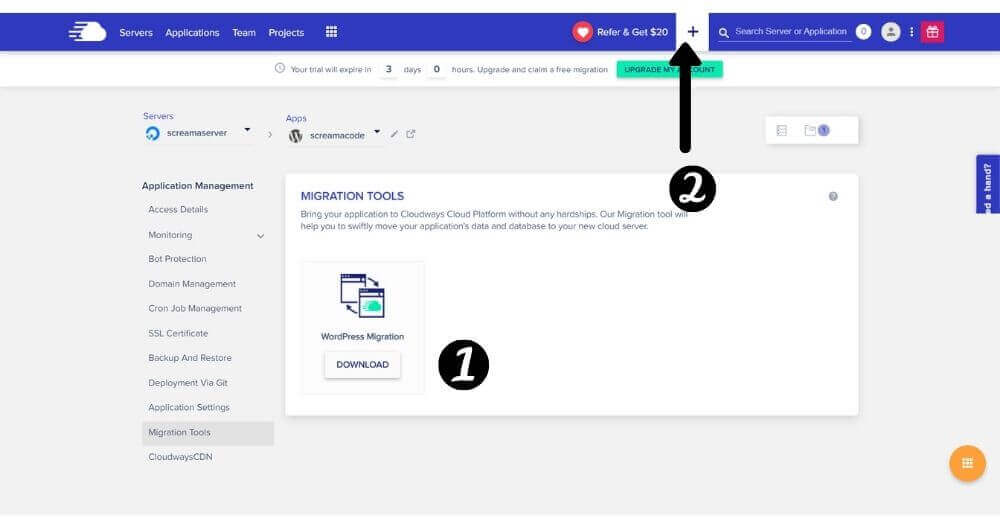 1 ) Download cloudways wp migrator plugin.2 ) Adding an application(websites) is simple, just click that plus icon and choose a server and enter the application name and project name. It just takes less than one 1minute.You will get to know how to set up cloudways in the upcoming section.If you are in hurry to know this, click belowJump to: How do you set up Cloudways?
Auto Healing Server:
After switching to cloudways hosting, you no longer need to worry about website crashes. With the help of auto healing technology, it will fix the issues within the server, and your website will go live in a matter of minutes. Nowadays, most managed WordPress hosting providers offer this feature.
Cloudways Backups:
1 ) Click take backup now to backup your current version of the website.2 ) Single click to restore or revert your website, this is the automated backup, it backs up your website in a regular interval, you can schedule your backup too.
Note :
They charge $0.033/GB per server for offsite backup storage, it's not that much cost.
You can use wordpress backup plugins to avoid this cost.Offsite backup – Production system data is stored in different geographical locations than the production system.
Cloudways Dashboard:
In cloudways hosting, the dashboard is neat and easy to use.You can deploy a server, add an application, install SSL, add domain, add CDN, or even DNS management via their super easy dashboard. No prior technical knowledge is required. If you still don't know about something, chat with them about your problem, they will help you.
Cloudways Cdn:
Cloudways offers CDN, but it's not free of cost. It costs around $1 per 25Gb(for a single application).It is a reasonable price, worth going to.Cdn is storing a cached version of your website and stores it in your visitor's nearby datacenter available. The cached version will be served to them.If you are not targeting different regions or don't want to spend some extra bucks for CDN, then you can blindly go for Cloudflare's free CDN, it is enough for you.When your business starts to grow, then you can buy this cloudways Cdn add-on.
Breeze wordpress cache plugin:
It comes free of cost by default installed on wordpress websites. with the breeze, you can minify css, js, and combine css, js to get the maximum page speed possible.While testing, it works well, but when compared to a wp rocket, the breeze is not that effective.But, one thing you need to keep in mind, the breeze is free, while a wp rocket costs around 50$ per year.
Choosing your cloud hosting provider:
In most managed wordpress hosting or cloud hosting providers, they will rent you in some server space, you can't choose a server.But, here in cloudways, you can independently choose which cloud hosting provider you want. cloudways offer digital ocean, Linode, vultr, aws, and google with over 60+ server locations all over the world.You can choose a server nearest to your audience to get better performance.
Staging:
With cloudways dedicated staging environment, you can test your website change or change the theme without breaking the live version.it is the process where you deploy your website and test it before it goes to production.
Vertical Scaling:
Increasing your server size, when your business grows or you want to move to higher ram, CPU, storage.You can scale your server by going to Server management → Vertical Scaling → Drag the bar to choose ram → Scale now
Monitoring your server:
Cloudways provides 24/7/ real-time monitoring, with this, you will be notified asap if anything goes wrong.Relic is an integration offered by this cloud hosting platform, which lets you know your website performance, makes the way easiest to identify issues and troubleshoot them.You can enable relic integration by going to Server management → Manage services → Enable new relic.And one more excellent feature is cloudways bot notification, which's an artificial intelligence assistant, which sends real-time performance insight based on that you can optimize your server and websites. And it's integrated with the slack app and email.So what's next?While choosing web hosting, speed, price, security are essential you must look into it.In upcoming sections, I will be covering those.Let's take some breath and then go.
How fast is cloudways?
All servers in cloudways support the latest Php version. with the Latest Php, faster website possible.With SSD drives, the website loads 3X times faster, due to this, load time significantly decreases.The latest version of MariaDB and MySQL is available on all servers that cloudways provides.Cloudways supports the http/2 protocol, which means more speed and more security to your website.With cloudways Cdn and breeze plugin configured, the website will load even faster.While I was testing cloudways, I wondered after seeing the results of the website. the website loads very fast and I got good core web vitals.I will talk about the performance test and results later in this cloudways review.If you want to know the results right away, click belowJump to: Cloudways performance test
Promocode:
When purchasing, Use "SCREAM20" to get 20% on your first invoice.
How secure is cloudways?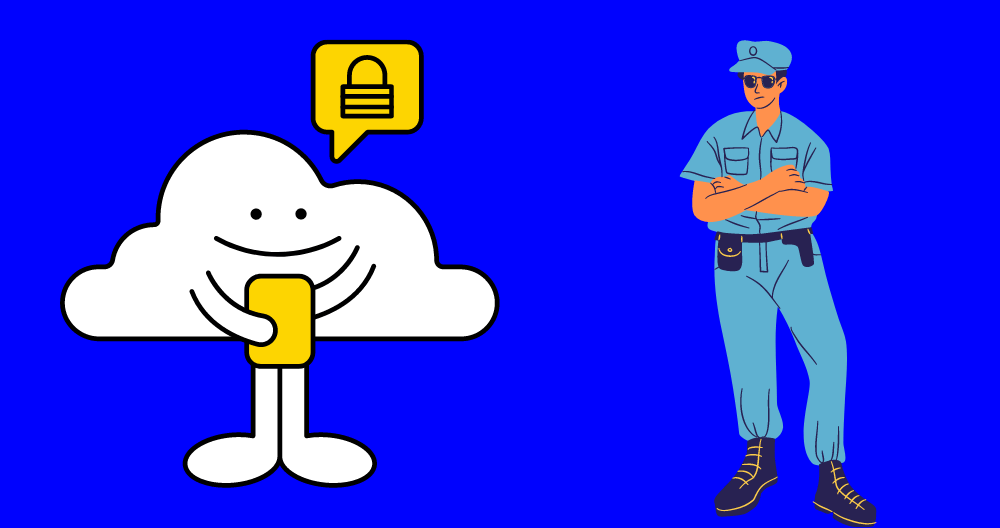 In cloudways, each server is deployed with a dedicated platform-level firewall, it just filters out the malicious traffic and keeps your website away from hackers. They are also known as managed WordPress hosting, so you never need to worry about the speed and security of the website.The same level of security is provided to other applications(magneto, Joomla..)As I already said, cloudways provides a dedicated server for your websites, it is highly secured.Every plan comes with free SSL(secure sockets layer) that improves the security of the website. you can enable SSL within a single click by going to the application management → SSL certificate.Type your email address and domain name, then click install certificate.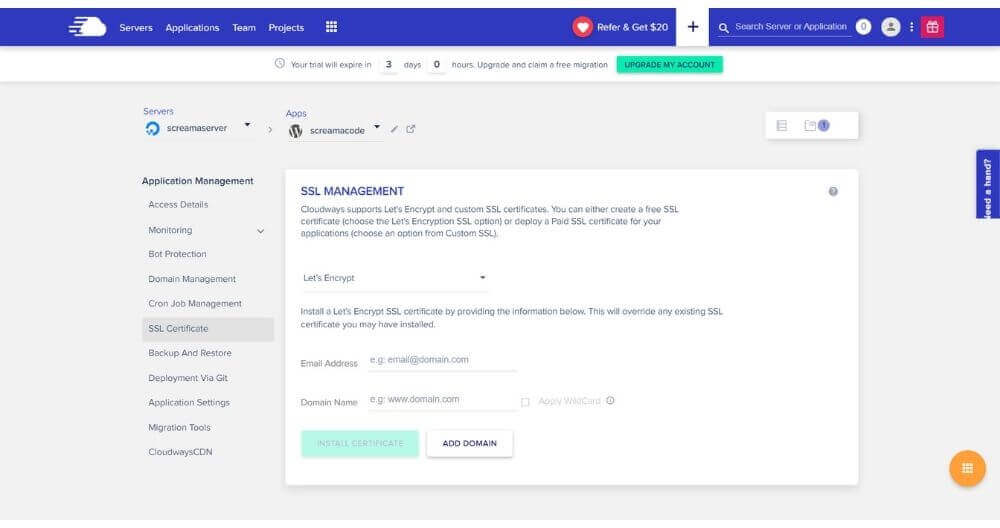 It will install let's encrypt SSL certificate on your website.You can also install custom SSL also.Every website you host on a single cloud server will be isolated to prevent them from getting affected by other wordpress websites or other applications.They will perform regular security patching to avoid vulnerabilities in your cloud server.With Cdn configured, you can improve your website speed and security a little bit extra.You can add an extra security layer to your account by enabling two-factor authentication.And some other security features they offers are,Bot protection: It is a wordpress security plugin and it is installed by default in your WordPress website, it protects your website from brute force attacks, DoS attacks and performs Cloud-Based Malware Scanning.You can enable this by going to the Application management → Bot protection → Activate
Ip whitelisting: Create whitelisted IPs to grant permission to only specific IPs to prevent unrestricted access to SSH and SFTP access.
How do you set up cloudways?
In this section, I will be covering from launching a server  to creating a wordpress website on cloudways.
Step 1: Launching a server in cloudways
You can follow along with me.Click Here, It will take you to the homepage of cloudways.And click get started for free and fill out the simple form, they don't ask for your credit card information.After that,It will take you to this page(see below image)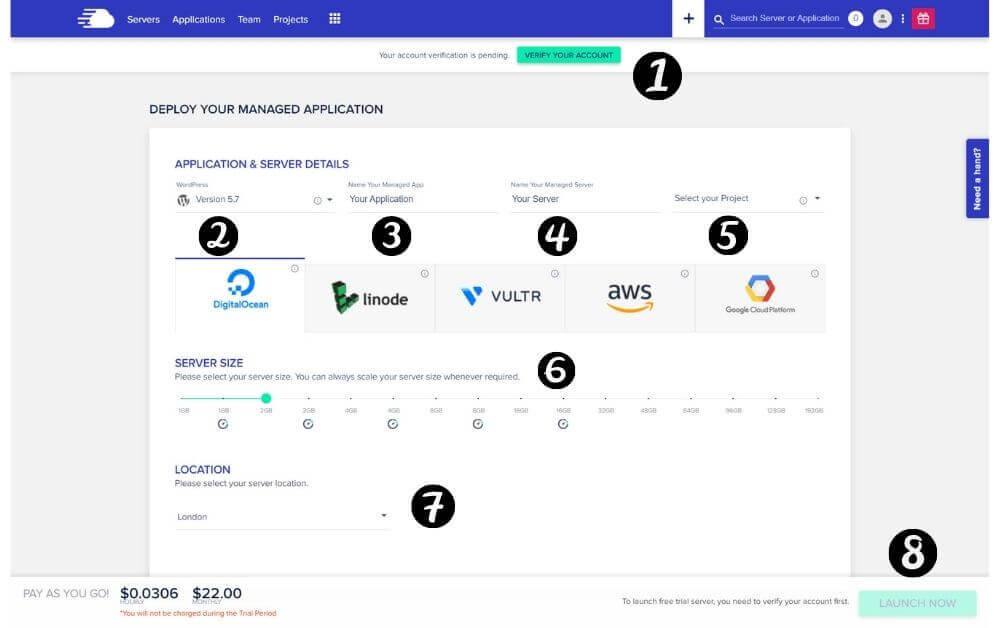 Here, you need to choose your cloud hosting provider and name your application.1 ) First thing is first, they will send you a confirmation email, verify that by clicking verify your account.2 ) choose wordpress, you can also choose PHP, Magneto, Joomla3 ) Name your application(website name), put your brand name. It's not a domain name, it's just for identify your website.4 ) Name your server.5 ) Name your project name.6 ) Choose your cloud hosting providers among Digital ocean, Linode, Vultr, Aws, Google Platform, and choose a server size based on the traffic of your website. my recommendation is to choose a server size of at least 2Gb and for a woocommerce website is 4Gb.You can't choose a server size of above 4Gb in cloudways trial.7 )  select your server location, choose a location that is closest to the audience you are targeting, in that way you will get the best website performance.8 ) Click Launch now, this process takes 5 -7 mins to deploy your server.
Step 2: Accessing your WordPress Website

After launching your server, click the icon (mentioned in the above image) to go to application management.
Click access details in the sidebar.1 ) This is your domain URL. it's is temporary URL assigned by them. you can access the frontend of your website by going to that URL.2 ) To access your wordpress website backend, just enter /login after your application URL and go, copy and paste the email in the backend login.3 ) Then, copy and paste the password in the backend login to access your backend.Woah, you did it.It is that simple.
Are you ready to witness the performance results of cloudways?Let's go
Cloudways performance test:
Testing and debugging is my favorite part in website development.so, I spent lots of time on these tests.Before getting into this, I want you to understand one thing.You may be seen that people posting how to get 100/100 score in pagespeed insights or the best web hosting to score 100/100 score.That's not true at all.You can achieve 100/100 score for simple and intermediate websites.But, you can't achieve this for complex websites even with best managed wordpress hosting.Even in simple websites, when you add some extra functionalities, the score will drop for sure.So, Don't focus on achieving 100/100 score.Better always focus on core web vitals.Now,For this testing purpose, I have chosen a digital ocean server with 2Gb of ram(22$/per month plan), server location is LondonMost people want to start from a low-cost server, that's why I chose this plan. they get a better understanding from these performance results.I installed wordpress application.Theme I used : 
I Imported a starter site, that's available through blocksy companion.Plugins I used : 
Akismet Anti-SpamBlocksy CompanionBot ProtectionBreezeStackableWPForms LiteOnesignalHustle
Note :
The testing website is not configured with CDN and breeze plugin is not configured(like minification of css/js) and images aren't optimized.
Images are not compressed, the size of each image is a minimum of 90kb.This website consists of some animations.Okay, let's see the results I got.
Pagespeed Insights Results:
85 for mobile and 96 for desktop, isn't it a good score?What's your opinion?In my point of view, this is a good score.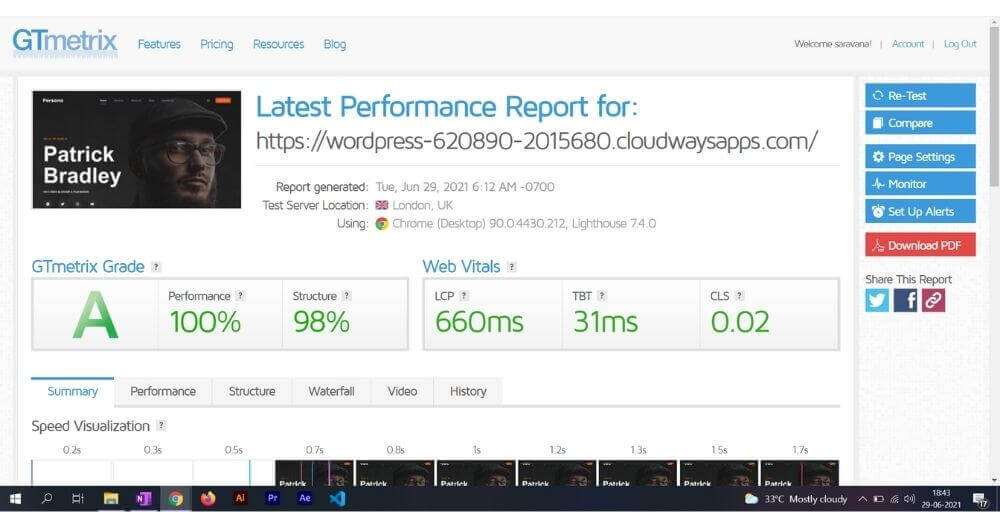 Look, what score I got,100 performance score, Great !If I add some more functionalities, it will drop to 98 or 99 something.As I already said, Look at the core web vitals I got.It's awesome.
Load time is just 565ms, Cool!Look, you need to keep in mind, I tested this website without configuring CDN, breeze plugin, image optimization.That means, if you configure CDN, minify css, js using the breeze plugin, optimized images. your web page size will decrease and you can expect at least 20% better performance than my testing website.I have tested the vultr 2Gb 23$/month plan with the same kind of environment that I used for digital ocean testing.Vultr performed a little better performance than the digital ocean.
What I didn't like in cloudways:
Cloudways doesn't offer Email for free and domain registration isn't available. I think these things wouldn't be a downside of cloudways.
Buy a domain first, then go to Application management → Domain Management → paste the domain you bought.(eg: www.screamacode.com)Then go to Application management → Access Details → Copy the Public Ip → Go to your domain provider → Add and Paste the IP address in A records.
Email hosting isn't free:
Nowadays most managed wordpress hosting companies focusing on hosting only, cloudways also did the same, but they provides email hosting through an add-on named Rackspace email. Price Starts from 1$/per month.you can go for it if you want to email. Reasonably priced.
While researching about cloudways, I saw in social media most people have talked about the speed, security, and support of cloudways. In Trustpilot, They have some good scores and reviews. Here are some proofs,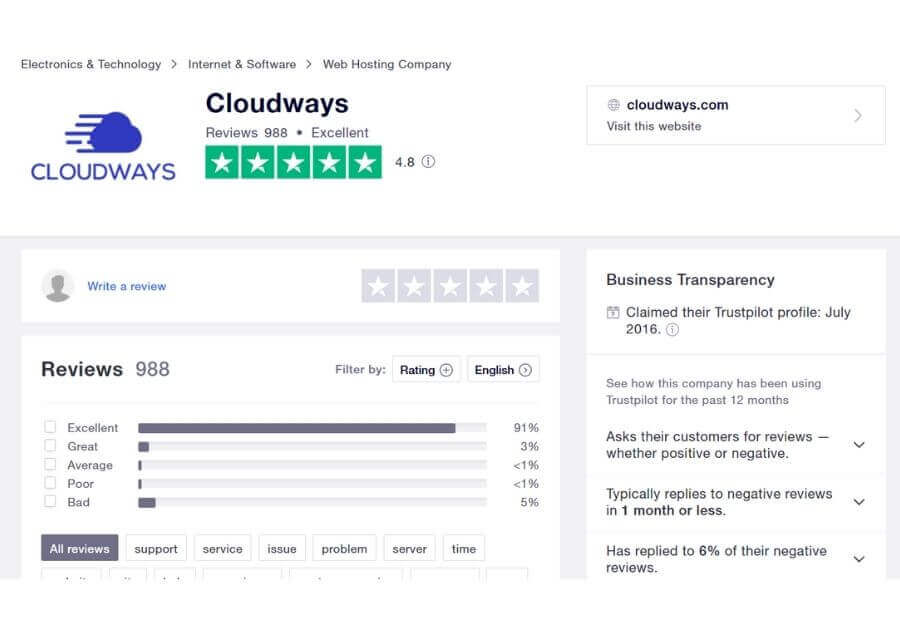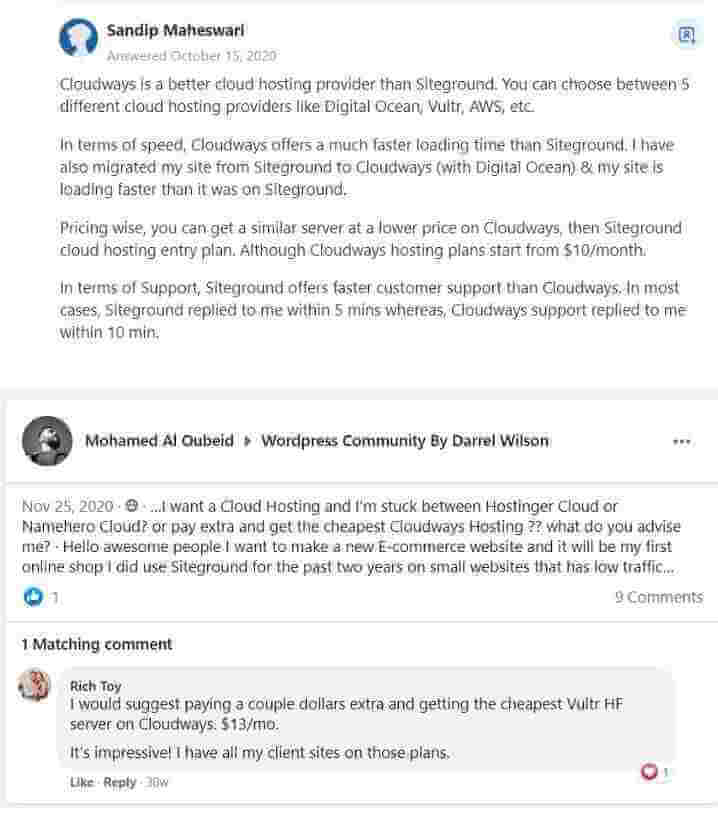 Cloudways pricing and plans:
Cloudways pricing is transparent and flexible payment, They charge based on hours, so you pay only for the resources you use only.You can upgrade or degrade your cloudways plans later.
Digital ocean – plan starts from $10/monthLinode – plan starts from $12/monthVultr – plan starts from $11/monthAws – plan starts from $36.51/monthGoogle cloud – Plan starts from $33.18/month
Cloudways provides good support to their valuable customers, most people love their support.Three types of support cloudways offer:
Standard support – It's comes with all plans for free,24/7/365 live chat support with professionals. Response time is under 10mins.They will help you even in the application configuration.Advanced support –  It's available through add-on, It starts from 100$ per month, Experts will help you to troubleshoot plugins, themes, and database optimization issues.Premium support – It's also available through add-on, it starts from 500$ per month, you can contact them via the private slack channel and phone call with experts.
In my opinion, you don't really need advanced or premium support, their standard support is awesome and enough for you at the beginning.
Cloudways competitors are wp engine, siteground, kinsta.I have seen most of the people moved from siteground hosting to other hosting providers because of speed and pricing.Siteground is famous for shared hosting, but not for cloud hosting,They provide cloud hosting, but the price is too high, their plans start from 100$/month and they don't provide that many features when compared to cloudways.Kinsta and wp engine also managed wordpress hosting companies, while kinsta plans start from 30$/per month(single wordpress website) and wp engine plans start from 25$/per month(single wordpress website).Both companies have capabilities to compete with cloudways.In terms of pricing and website limit, cloudways have done a great job by offering unlimited websites on all plans, pricing starts from 10$/per month.
When ordering, Use "SCREAM20" to get 20% on your first invoice.If you purchase cloudways through the link available in this blog, we will develop your first wordpress website for free. you can also contact us for queries before purchase.
Wrap up: Cloudways review
Overall Rating: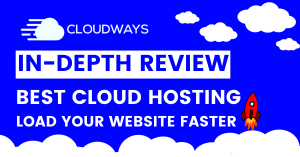 Cloudways hosting is best suitable for freelancers, developers, and for people who are having high-traffic websites and woocommerce websites. I'm giving this review and rating after spending lots of time testing cloudways.
Price: From 10$/per month
We have come to the end of this cloudways review,I hope I have covered everything about cloudways, this is my honest review.Now, it's your time to move your website to super-fast cloud hosting.
Just look at the features, and they are giving it for low cost when compared to their competitors.If you don't have this much of a budget, you can go for Bluehost shared hosting their plans starts at 2.95$/per month. But, It's not recommended for high-traffic websites.
Want to read more information about Bluehost➡ Go to Bluehost Review
One thing, don't expect the speed and security that cloudways offers in Bluehost.Bluehost has decent speed and security, but you can't compare it with cloudways, because it's shared hosting not a dedicated server at all.If you enjoyed this article, share it with your friends and colleagues, we are spending so much time researching, testing, and writing articles for you.Good Luck👍