Cloudways is an excellent all-rounder WordPress hosting service. Based on our 12-months data, Cloudways excels in TTFB and load handling performance. Cloudways pricing starts $10/month and comes with unlimited site installs but backups and CDN comes as addon. Cloudways support is excellent for most cases with fast resolution available through chat.Cloudways WordPress comes with a speed-optimized setup, thus it offers faster performance by default. It offers a 3-days free trial and coupon code. The migration is handled by Cloudways migrator plugin in few clicks. Cloudways offers pay-as-you-go pricing, so you only have to pay for your resources. Plus, there's no long-term commitment required.
Cloudways Review: Our Verdict
Overall: Cloudways offers excellent value for money WordPress hosting service. One can sign up for $10/month and host unlimited sites. It offers pre-optimized WordPress setup, thus one can enjoy maximum performance without any manual work. Any number of sites can be transferred for free through Cloudways Migrator plugin. Comparing the performance to price ratio, Cloudways is an affordable choice.
Performance: Cloudways recorded fastest TTFB in our test. It has remarkable speed better than similar services like SiteGround. The Cloudways Cloudflare Enterprise comes with added advantage of even better speed. Cloudways Brezze plugin offers additional speed advantage and it comes for free.
Features: Cloudways offers most advanced features to modify anything about the server. It has got all the advanced features like log access, staging sites, backups creation & restore. The company has been continually innovating and introducing unique features in every quarter like SafeUpdates.
Support: Cloudways offers multi-mode support and chat support is the easily accessible. Their support is quite good for most cases but at times based on the support agent, you might experience a sub-par support.
Cloudways Pros and Cons
Pros:
Best-in-class performance.
Reliable uptime during our testing.
Many data center options to choose from.
Unlimited sites hosting on starter plans.
Quality customer support.
Cons:
Email hosting is not included
CDN costs are extra.
No auto-scaling.
Cloudways Plans and Pricing
Cloudways plan starts at $10/month with a free three-day trial. There is also our Cloudways Promo Code that offers $25 free credits. The Cloudways plans from each cloud providers are:
DigitalOcean: Starts at $10/month
Linode: Starts at $12/month
Vultr: Starts at $11/month
Amazon Web Services: Starts at $36.51/month
Google Cloud: Starts at $33.63/month
The Cloudways plans differ based on server resources like RAM, CPU, Storage, and Bandwidth.
When to Choose Cloudways:
If you are upgrading from shared hosting, Cloudways is your ultimate choice. By choosing Cloudways, you don't need to burn your pockets by choosing a Managed WordPress hosting, which usually costs $30 per month.
When not to Choose Cloudways:
Though Cloudways is excellent, it's not auto-scalable and requires a manual upgrade (although it takes just a few clicks). If you are highly concerned about autoscaling, Cloudways is not a good option.
Cloudways Performance Test
Cloudways performance is tested by hosting a test site on their DigitalOcean servers. The sites are monitored from 20 USA locations for 60 seconds once. A total of 10,100 tests are done every month.
TTFB
The Cloudways site recorded an average server response time of 303ms. The Cloudways TTFB is better than WP Engine and Kinsta. Both Cloudways Premium and Standard servers comfortably score better.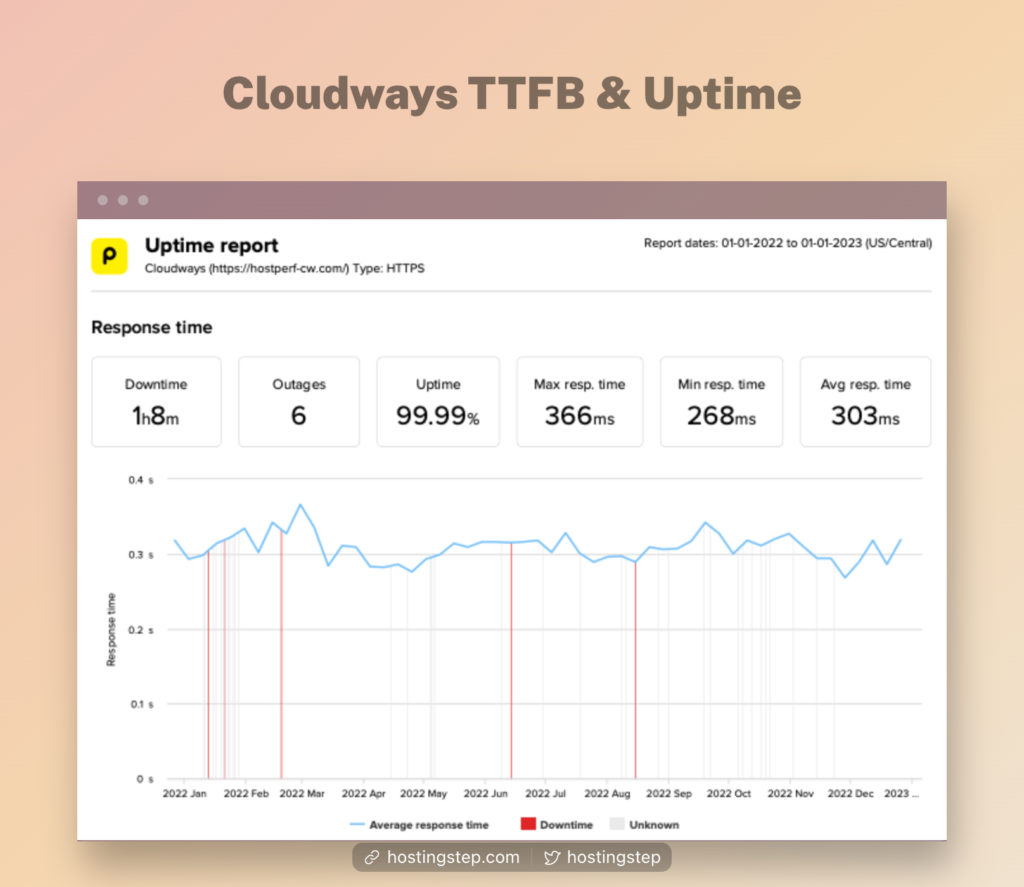 Uptime
Cloudways site recorded an average uptime of 99.99%. Cloudways is one of the few companies offering such a high uptime.
Load Testing
Cloudways site recorded an average response time of 180ms while handling 500 Simultaneous visitors. A total of 83540 requests are processed without any error.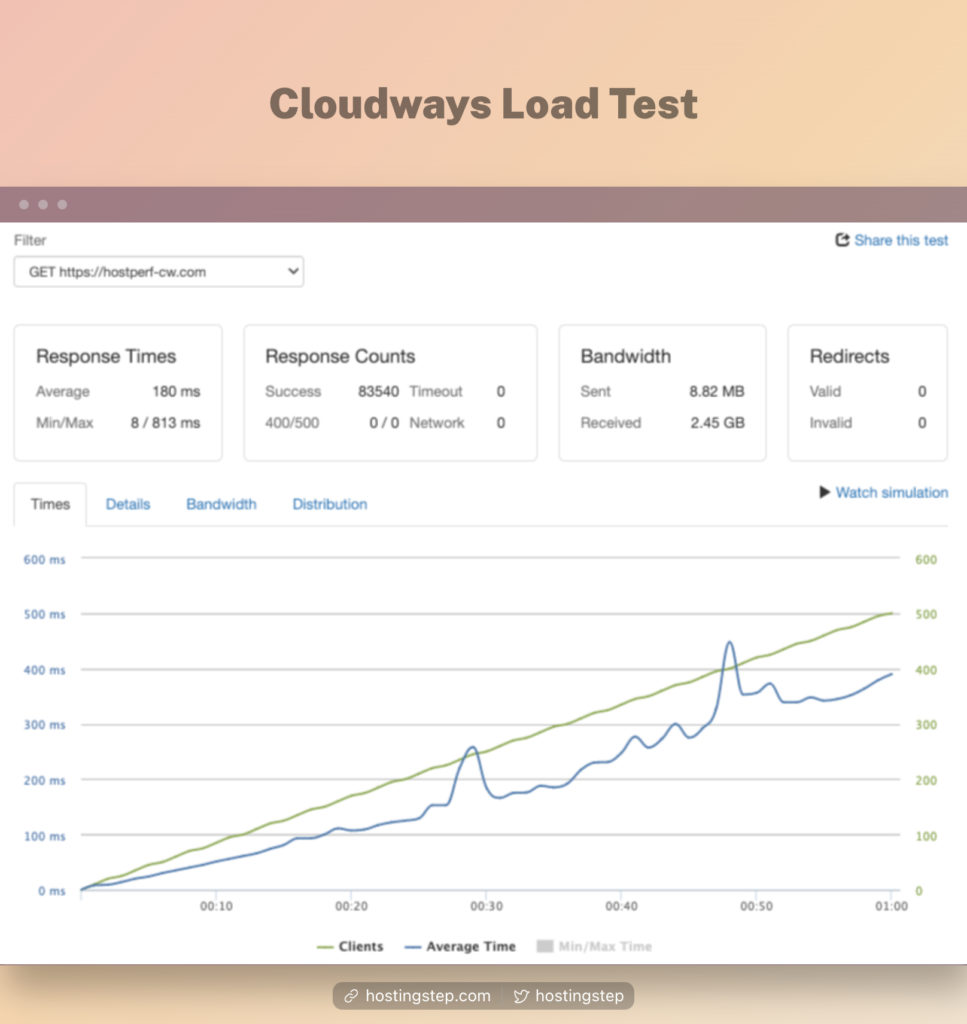 Global TTFB
The Cloudways site recorded an average global TTFB of 437ms with fastest TTFB in all the places.

Core Web Vitals
I tested the Core Web Vitals of my Cloudways site, and the site recorded
Largest Contentful Paint: 468ms
Total Blocking time: 0ms
Cumulative Layout Shift: 0

Cloudways Features
1. Datacenters Locations
Cloudways allows customers to choose from 5 different cloud providers, which include DigitalOcean, Google Cloud Platform, Amazon Web Services, Linode, and Vultr.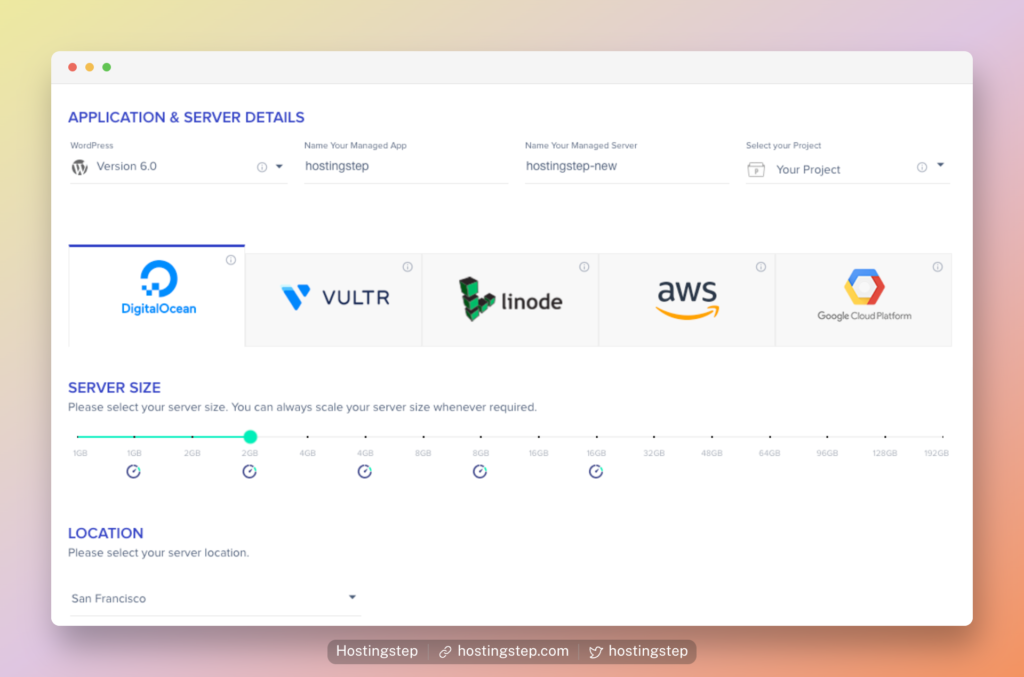 Cloudways can provide services from over 65+ global data center locations. No other service has achieved this flexibility in choosing data centers.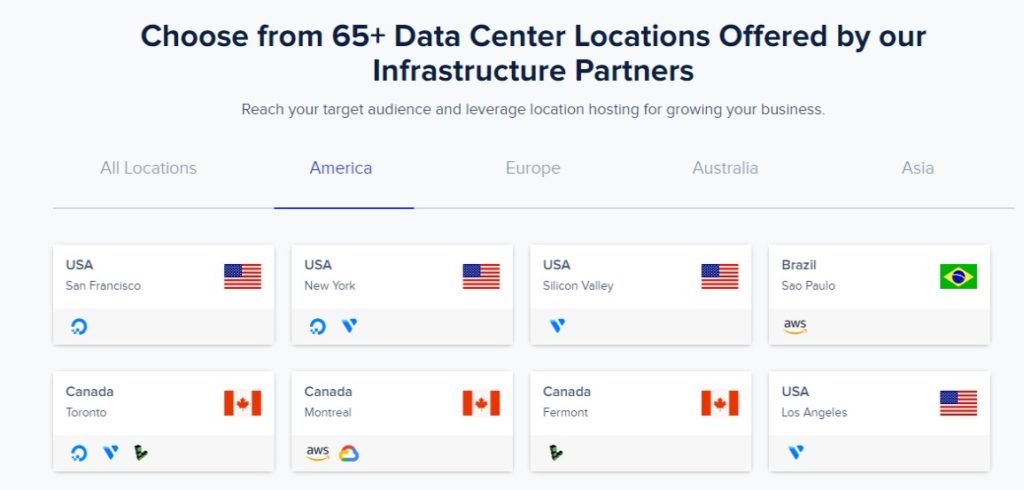 2. Cloudways Control Panel is excellent
Cloudways offers users a custom control panel with an easy-to-use user interface. All the options are neatly arranged, and users shouldn't have any problems with navigation and usability.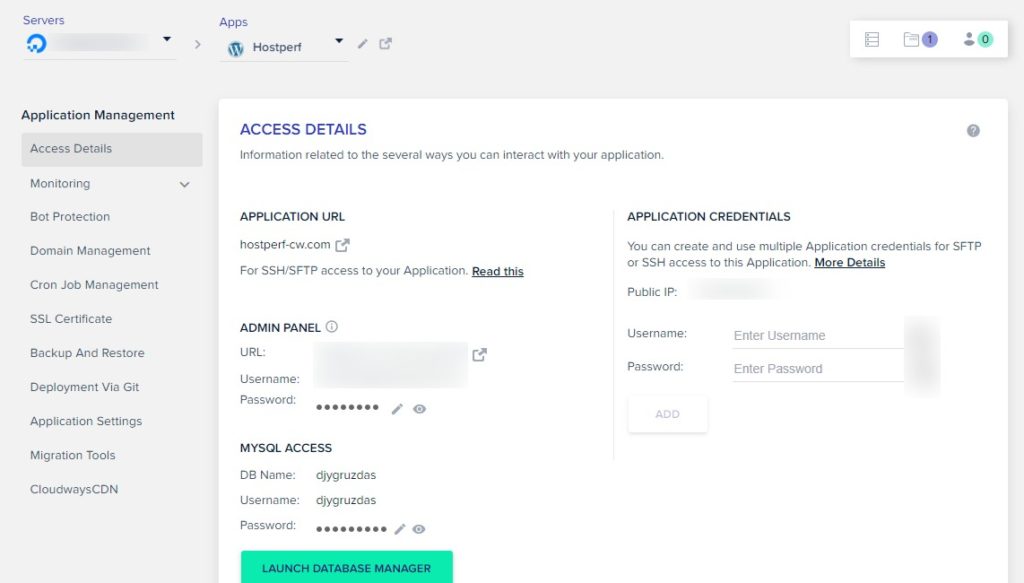 Users have the convenience of managing every aspect of their hosting account from a single point of control. This includes Server Settings and Packages via UI, 1-Click Backup & Restore, Cron Job Manager, WP-CLI Pre-installed, 1-Click Stop App, App Settings via UI, and Advanced/Custom Varnish Settings.
Cloudways is also an excellent platform for team collaboration and offers many advanced collaboration tools. These tools are Git Integration, SSH and SFTP Access, Application & Server Cloning, One Account Multiple Teams, Projects, Staging Area & URLs, and Server Transfer.
If you come from cPanel, then the Cloudways control panel will significantly improve your productivity. The tasks can be done in less than 1 – 3 clicks, which took at least 5 – 7 clicks in cPanel.
3. Cloudways Migration
Cloudways does unlimited site migration through their Cloudways Migrator Plugin. You can simply install the plugin on the existing site and enter the Cloudways server details. Based on your site size, the transfer might take some time, but most blog site migrations get over in less than an hour.
4. Staging Environment
Cloudways offers customers a simple and stress-free staging environment that allows you to test your changes relating to plugins, themes, and code within a sandbox.
Besides, the staging site is connected to the live site to push quickly and pull operations. The staging environment is password-protected, and SSL-enabled.
5. Cloudways Security
Cloudways security is highly robust, characterized by Dedicated Firewalls, Let's Encrypt SSL, IP Whitelisting, Regular Security Patching, Two Factor Authentication, and Bot Protection.
Besides, if we consider the track record of Cloudways so far, there hasn't been a single security issue.
6. Cloudways Cloudflare Enterprise CDN
Cloudways and Cloudflare team up to offer an Enterprise CDN solution that promises to speed up content delivery and improve website security. The service is available through the Cloudways platform at an affordable price of $4.99/site.
The Cloudways Cloudflare Enterprise CDN is powered by Cloudflare's Anycast network, which has over 200 data centers worldwide.
7. Cloudways Support
Cloudways has a very reliable and dedicated support service with mainly 24/7/365 Live Chat and Online Ticketing to assist customers with things such as Server Customization and Configuration and Application-level Issues.
The assistance is pretty fast and friendly. Besides, Cloudways also has a Premium Support addon which comes with enhanced SLAs, Phone Access, Private Slack Channel, and shorter ticket response times.
8. Cloudways WordPress optimized Setup
For new site installations, Cloudways offers a Speed optimized WordPress installations. Thus, by default, the sites offer the fastest hosting experience. However, customers can opt-out of this optimized setup and use a regular WordPress installation.
9. Breeze Caching Plugin
Cloudways comes with a free WordPress Caching plugin called Breeze. Breeze is a hassle-free WordPress cache plugin with no technical complexities. Further, the plugin comes with a user-friendly interface.
Breeze works smoothly with Varnish Cache and CDN. Besides, the plugin comes with internet and static caching features to boost page loading for WordPress sites. Further, the cache plugin optimizes databases. This reduces the size of the databases and helps them with a good response time. 
10. Free SSL
Cloudways provides customers a free SSL Certificate by Let's Encrypt on all plans. The SSL Certificates encrypt the traffic communicating between the browsers and the website.
Frequently Asked Questions
What is Cloudways?
Cloudways is an ultimately managed cloud hosting with free migrations and 24/7 Human support. Cloudways comes with an innovative control panel suitable for both business owners and developers.
Is Cloudways shared hosting?
Cloudways doesn't fall under either shared, VPS, or Dedicated hosting. Cloudways is a cloud hosting platform that provides easy access to launch websites.
Does Cloudways have a cPanel?
Cloudways comes with its Proprietary control panel and doesn't use cPanel. Their control panels come with many intrinsic features to ease your site management.
Cloudways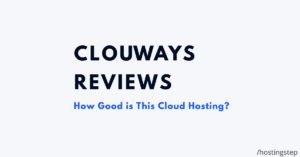 Is Cloudways the best cloud hosting platform for your business in 2023? Check out our in-depth review of Cloudways features, plans, and pricing.